Asa Nelson Wilson
(1880-1948)
Information about Individual
Asa Wilcox was born in Michigan on 1 September 1880. In 1900, he was living in Hastings, Michigan and working as a laborer in a buggy factory.
On 24 December 1906, Asa married Oma Mudge. They were married in Gratiot, Michigan.
About 1906, Asa moved to Lapeer, Michigan. In 1908, he moved to Caro, Michigan where he remained until 1935. We do not know everywhere Asa and his family might have lived in Caro, but in 1918, they resided at 211 Ellis Street, Caro, Michigan. From an undated registration card, we know that at some point during the 12-13 years he lived in Detroit, he address was 13585 Wyoming, Detroit, Michigan. I am not clear if he moved to Unionville, Michigan after his wife died in 1947 but he was living/visiting Unionville, Michigan when he died in 1948.
We known that in 1908, Asa worked as a subscription agent for The Tuscola County Advertiser. Although we have a newspaper announcement for the auction firm of "Dickersheets and Wilcox," at this point, we are unable to date the announcement. However, we know it was sometime after 1908. The 1910 census lists his occupation as solicitor for a paper house. In 1912, he copyrighted a map. In 1918, Asa was appointed to a position in Northwestern Mutual Insurance. Later in his life, he operated the Asa N. Wilcox Egg Company. We also know that at some point in his life he sold shoes.
On the 27 August 1912, Asa Wilcox announced that he was a candidate for Register of Deeds on the Republican ticket. The title for his advertisement was "Wilcox's Announcement: Read It--It Costs Him Good Money To Have It Printed."
Asa Wilcox died in Unionville, Michigan on 18 April 1948.
Photo Gallery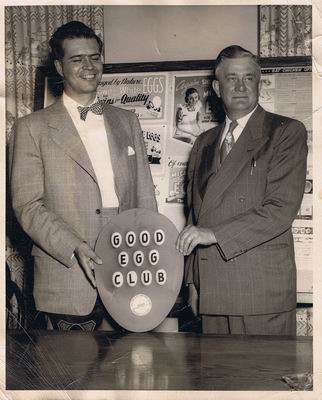 Michigan Governon G. Mennen Williams presents award to Asa N. Wilcox for Asa Wilcox Egg Company.
For More photographs
Documents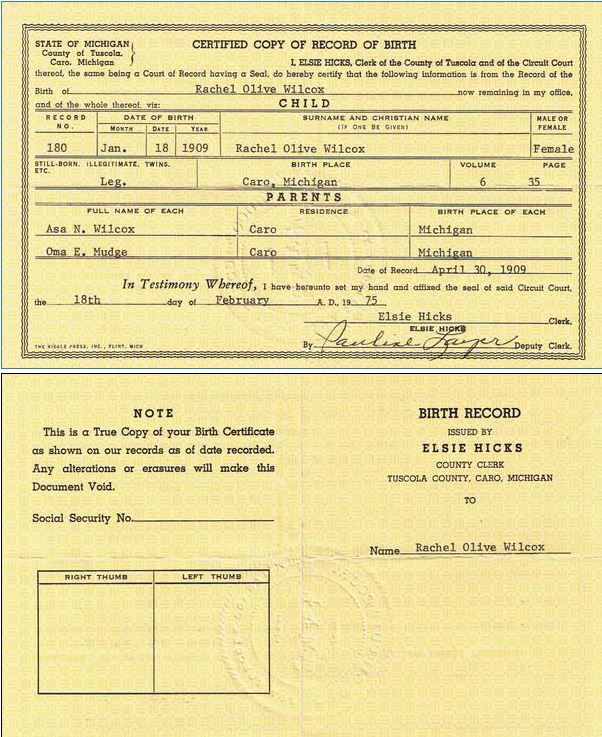 Rachel Wilcox's birth certificate.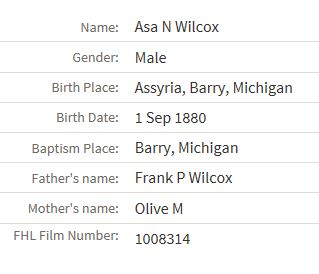 Birth information for Asa N. Wilcox.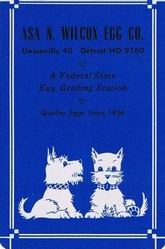 Business card for Asa N. Wilcox Egg Company
For More Documents
Memorials
Census Records
Library