Oma Elizabeth Mudge
(1876-1946)
Information about Individual
Oma Mudge was born in Maple Grove, Michigan on 16 October 1878. On 24 December 1906, Oma married Asa N. Wilcox. W. L. Holmes officiated at the wedding and Frank P. Wilcox and John R. Day served as witnesses.
Shortly after her marriage, Oma and Asa moved to Lapeer, Michigan. By 1910, she was living in Caro, Michigan. In 1935, she moved to Detroit. Her last driver's license, which would have expired on 4 June 1949 lists her address as 503 W Sherman, Caro, Michigan.sup>1 While in Caro, she was a member of the Wison Club.
On 2 May 1947, Oma died of a stroke while visiting her daughter Naoma in California. As explained in her obituary:
"Mrs. Wilcox went to Los Angeles to be with her daughter Mrs. William Hayes, during the birth of Mrs. Hayes' baby2, and suffered a stroke a short time after her arrival. She died after a week's illness."
Oma's funeral was held on 8 May 1947 at the First Methodist Church in Caro. The Revered S.S. Colson presided. Pastor Colson was assisted by the Reverend Ira Cargo of Fowlerville. The obituary tells us that the Reverend Cargo was "a cousin." She was buried in the Caro cemetery.
1Based on her driver's license, I had originally written that Oma returned to Caro at the end of her life. However, Rita Luks writes that, "I was just reading the profile on my Grandmother Wilcox and I do not believe she moved back to Caro near the end of her life. She and Grandpa Wilcox lived in Detroit up until the time she died. I cannot imagine why she had a driver's license that said she lived on Sherman Street on Caro."
2Susan Haynes, daughter of William Haynes and Naoma Wilcox Haynes was born on 23 April 1947.
Photo Gallery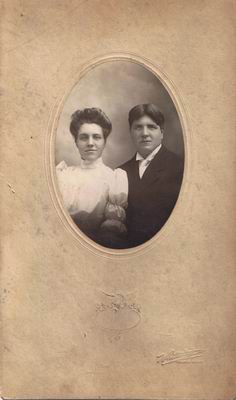 Oma Mudge and Asa N. Wilcox.
For More photographs
Documents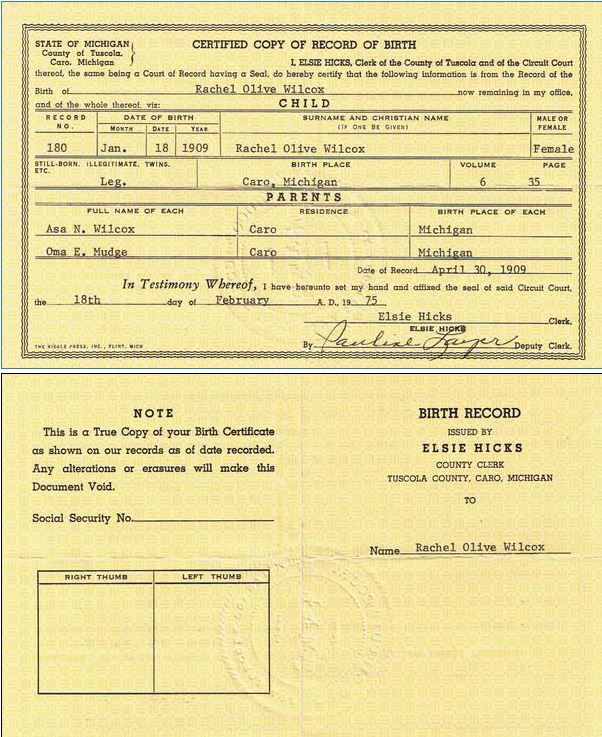 Rachel Wilcox's birth certificate.
For More Documents
Memorials
Census Records