Mikolaj Liberacki
(1876-1966)
The emigration from Poland of Mikolaj and his wife brought the Lieberatzka branch of the family to the United States. As part of their immigration, Lieberatzka was anglicized to Liberacki.
Information about Individual
Mikolaj Liberacki was born in Siestrzanki, Poland1 on 13 December 18752. The following day, he was baptized by Fr. Szczerbinski. His godparents were Pawel Koszorek and Katarzyna Oponska.
He emigrated to the United States in either 1896 or 1898.3
On 05 September 1904, Mikolaj married Weronika Gosciewski at Holy Trinity Roman Catholic Church in Erie Pennsylvania. Fr. V. Matysiak officiated at the wedding which was witnessed by Josepj Kantorowski and Anna Chudzinska.
Mikolaj became a naturalized citizen in 1922.
In 1904, Mikolaj was living in Erie, Pennsylvania. By 1920, he and his family were living in Grand Rapids, Michigan.4 He was able to read, write, and speak English. He worked as a "stockir" for the Gas Company. By 1922, he lived at 752 Butterworth St, SW, Grand Rapids, Michigan. This was the family home for many years. In 1930, he was still living in Grand Rapids where he owned a home worth $5,000.5 In 1948, Mikolaj was still living in the Butterworth home. At the time, he was working as a foreman at Grand Brick.
At some point, Mikolaj was beaten so badly by strike breakers that he was unable to work and, to make a living, he collected junk which he repaired and/or sold. His cart was known as the "banana cart." How his cart received its name is unknown.
During the 1940s and 1950s, he would spend time in Unionville, Michigan helping his son Alexander with the berry farm.7
In Grand Rapids, he was a member of the Men's Rosary Society.
Mikolaj was better known as Dza Dza "which is Grandpa in Polish."7 However, various records also list his name as Michael and Nicholas.
On 9 February 1966, Mikolaj died in Grand Rapids, Michigan of diabetes mellitus. He was buried in Grand Rapid's Holy Cross Cemetery on 12 February.
1At the time of Mikolaj's birth, this part of Poland was technically Russian territory. As a result, his birth certificate and official nationality are Russian.
2In some sources--including his obituary--his birth date is listed as 6 December 1875. His birth certificate lists both dates. This is because both the Gregorian and Julian calendars were in use in 1875.
3The 1930 census lists the date as 1996 while the 1920 census lists the date as 1998. I have been unable to find any other immigration records.
4I have been unable to find the 1910 and 1920 census records for Mikolaj.
5This would be the home on Butterfield.
6The source of this information is Mikolaj's obituary. However, Jay Liberacki remembers, "I'm not sure he was spending time in Unionville in the 40's. I can remember the 50s, but I was to young in the 40s to remember. I don't think Al and Ray would have had room for him until Ray's father died."
7Although his obituary supports the view that Dza Dza is Polish for Grandpa, Dza Dza is actually an Anglecized version of dziadzio.
Photo Gallery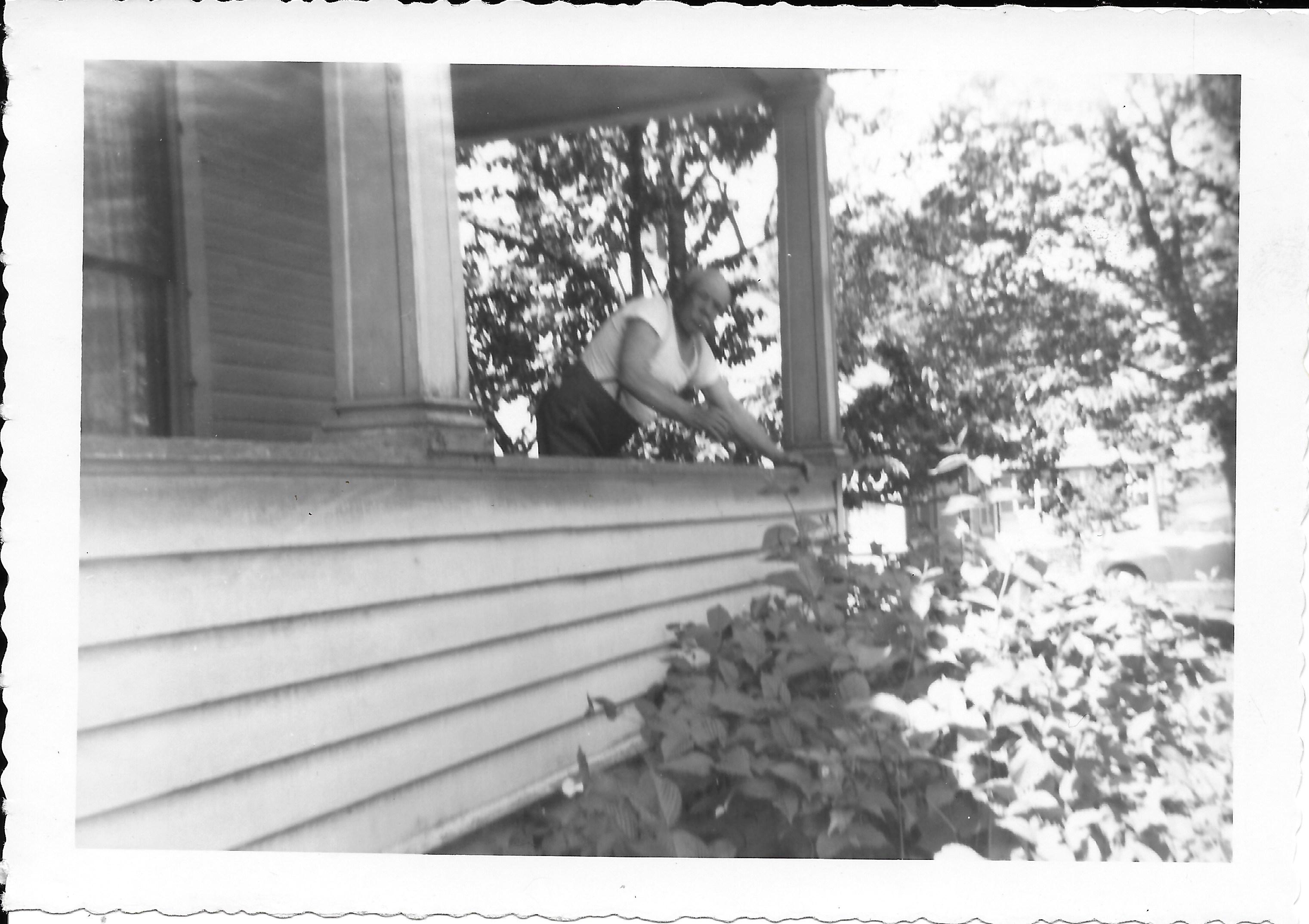 Mikolaj Liberacki working on Alexander Liberacki and Rachel Wilcox's porch. 13 June 1954.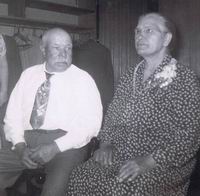 Mikolaj Liberacki and Weronika Gosciewski at their 50th wedding anniversary.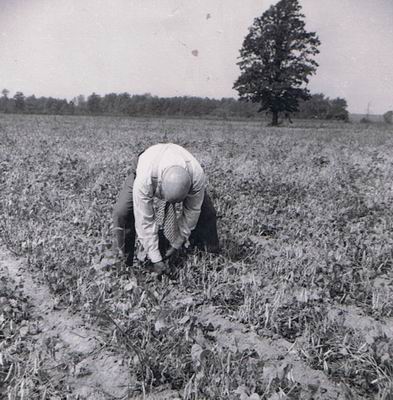 Mikolaj Liberacki working in the family raspberry patch. Unionville, Michigan. 1949.
For More photographs
Documents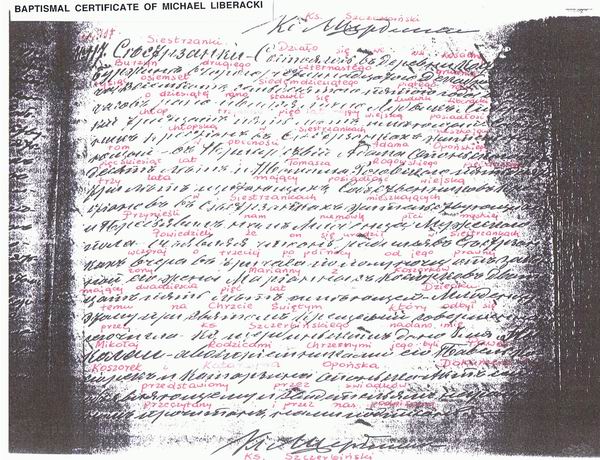 Birth certificate for Mikolaj Liberacki.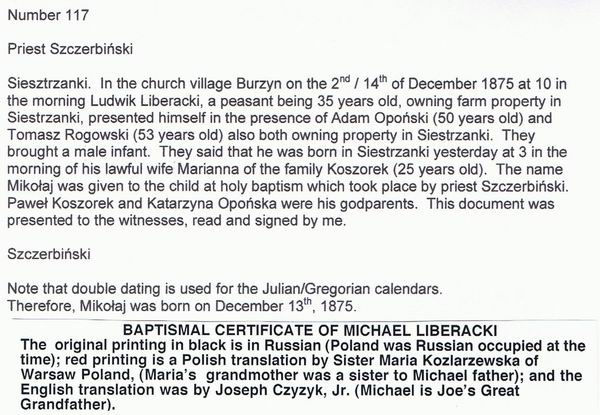 Translation of birth certificate for Mikolaj Liberacki.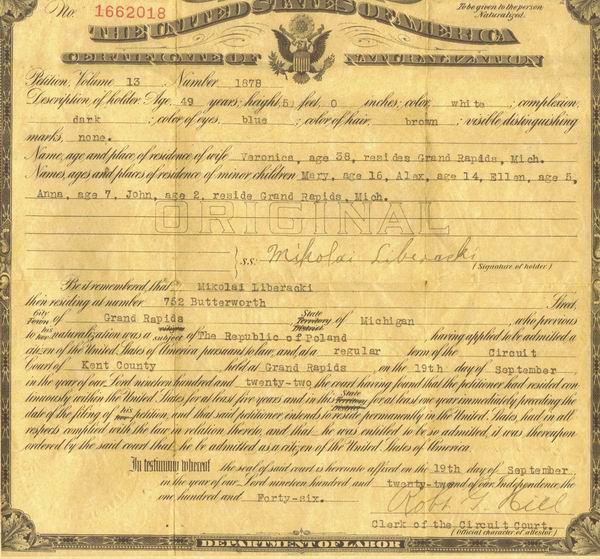 Naturalizatin papers for Mikolaj Liberacki.
For More Documents
Census Records
Videos