Louis Ehmann
(1868-1952)
Information about Individual
Louis Ehmann was born in the state of New York in August 1868. Before 1870 and until at least 1880, he lived in Ellicottville, New York. Sometime after 1880 but before 1891, he moved to Michigan. On 10 May 1891, he married Anna Langlass. The wedding took place in Saginaw, Michigan and was officiated by Pastor F. Voltz. Anna's brother John Langlass and Bail Sinchoff1 served as witnesses. Both of the witnesses lived in Beavertown, Michigan.
By 1900, Louis and Anna moved to Williams Township near Auburn, Michigan. In 1900, they own their farm mortgage free.
Anna died in 1918. On 22 August 1927, his daughter Emma married Ferdinand Berg. Emma and Ferdinand's son Calvin Berg was born two months later on 22 October 1927. In 1930, Emma, Ferdinand, and Calvin were living with Louis.
Louis died in 1952.
1The marriage record is hard to read so it is likely that I have spelled this witness' name wrong.
Photo Gallery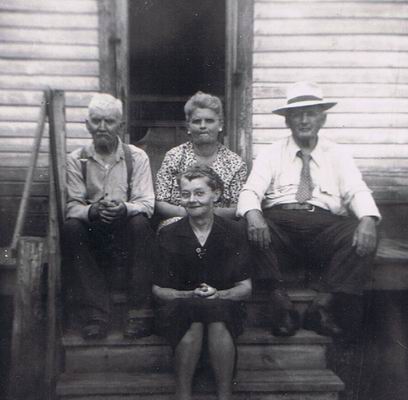 Louis Ehmann, Lena Ehmann, Arthur Erickson sitting on steps behind Emma Ehmann.
Gravestone marking Louis Ehmann and Anna Langlass' grave in Zion Lutheran Church Cemetery, Beaver, Michigan. Image taken by Cathy Taylor and posted in Find a Grave. 22 Janaury 2014.
Documents
Census Records